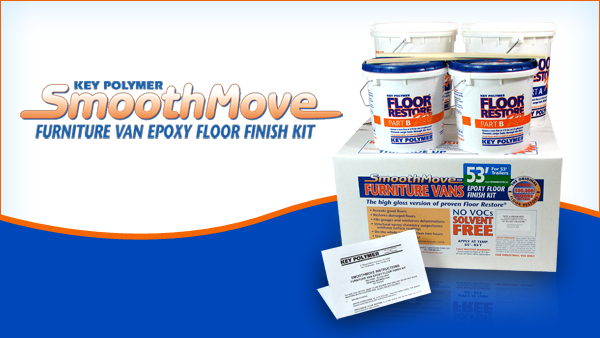 Furniture Van Epoxy Floor Finish Kit
This is the furniture van flooring product of choice for most operations that require a smooth surface for sliding furniture and other items like poly bagged mattresses.


It is a both a reinforcing gap filler and bright smooth topcoat for van flooring. The floor surface is a pure epoxy surface. It is solvent-free, VOC-free epoxy floor coating product and meets today's safety and environmental requirements.
Furniture van operators require a high-gloss, high-slip floor coating to meet their needs. Easily applied with a squeegee and a high quality thin nap roller, Smooth Move epoxy floor coatings seal and protect furniture van floors while restoring the look that professional movers want.

Smooth Move is available in two kit sizes: 48ft and 53ft. These kits can be easily divided for use on 28-foot trailers, straight trucks and vans. A single kit contains enough material for a single coat for one trailer. It can be easily applied at your facility or at one of our many dealers.

Smooth Move Documentation